I became a member of Davao Bloggers Society on April 2012. Since then, a lot of things have happened…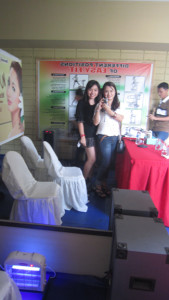 My first event with DBS- Bioessence with Ms. Iya Villania
Davao Bloggers Society has opened a lot of opportunities for me, things that could not have happened if I haven't been part of this organization. I met a lot of interesting, talented, and amazing people. I have learned a lot from them, from the events I have attended, and from the experiences I've had with Davao Bloggers.
Davao Bloggers has become an integral part of my life. The organization means a lot to me.
Before I breakdown and cry (hahaha!), let me share one of the events that I always look forward to every year, the Davao Bloggers Acquaintance Party.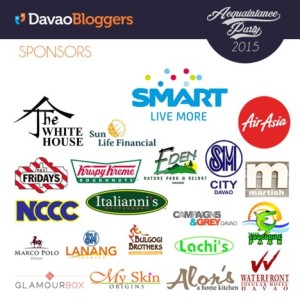 Davao Bloggers Society held an Acquaintance Party at the White House Cuisine and Wine Lounge on May 16, 2015.
What set this party apart from our past acquaintance parties was the grand announcement of the exclusive partnership of the Davao Bloggers and Smart Communications. Davao Bloggers' future events will be grander, better, and more reliable because we are now powered by Smart. Everything will now be ALL OUT!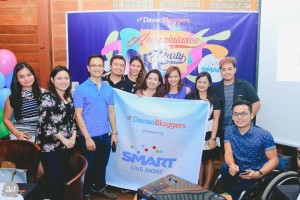 Thank you so much Smart Communications!
I have attended the Davao Bloggers Acquaintance Party several times already and I still look forward to it with so much gusto because of the games, contests, prizes, and the new people that I will meet. It's always exhilarating to go out and meet new people, especially if those people share the same interests with you. Right? It's also a great time to catch up with old blogger friends and to re-connect with blogger friends whom I haven't seen in a while.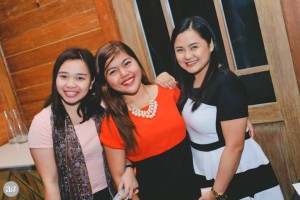 My Powerpuff Gurls 🙂
I also looked forward to joing the games and winning prizes because Davao Bloggers do everything to win. #Competitive! Yes, it's always a healthy competition among bloggers but we always exert tremendous effort into playing games. No matter what the prizes are, we always play to win.
Here's a proof…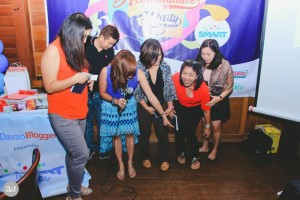 Barefoot in front of everybody!
And here's the story why I am barefoot in the photo.
When they announced that there'll be a bring me game, I immediately took off my shoes so I could wear my slippers and I could run faster. But the scheme didn't work out the way I planned it to be. The hosts already called out for an item which I possessed. And I quickly dashed with it to the stage. So there I was with my Official DBS ID sans slippers. Of course everybody noticed but it was worth all the effort because I won an awesome prize! Hahaha!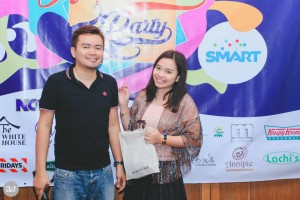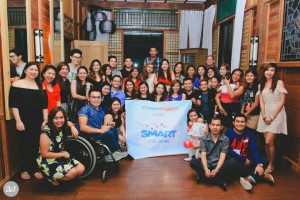 Davao Bloggers Society
I am thankful that I'm a part of this distinguished organization, Davao Bloggers. Many bloggers and companies have said that DBS is the most organized blogging community in the country and I must say that indeed it is. All thanks to the officers who keep everything in order for us, members. And of course, the members, who keep Davao Bloggers alive with our zealous participation. Together, we form the Davao Bloggers Society, the premier blogging organization in Davao Region.
The Davao Bloggers Society and our events would not be successful without the support of our dear sponsors. It wouldn't be possible without your generosity and support. Thank you! Here's to hoping for a continuous partnership with you.
Check out our awesome sponsors: