We were lucky Leng and Richard have their car so the trip was very comfortable and convenient. We are really thankful to you Leng and Richard!
Lipa Batangas Airbase– Leng and Richard made us see what it was like in an Airbase. There are houses, markets and offices in there and also some old helicopters.
PNPA– On our way to Tagaytay, we passed along with this training ground and school for police. There were no officers in the area, so there was really nothing to be excited about. Haha We just took pictures of the place. I think PMA would be much enjoyable. 😛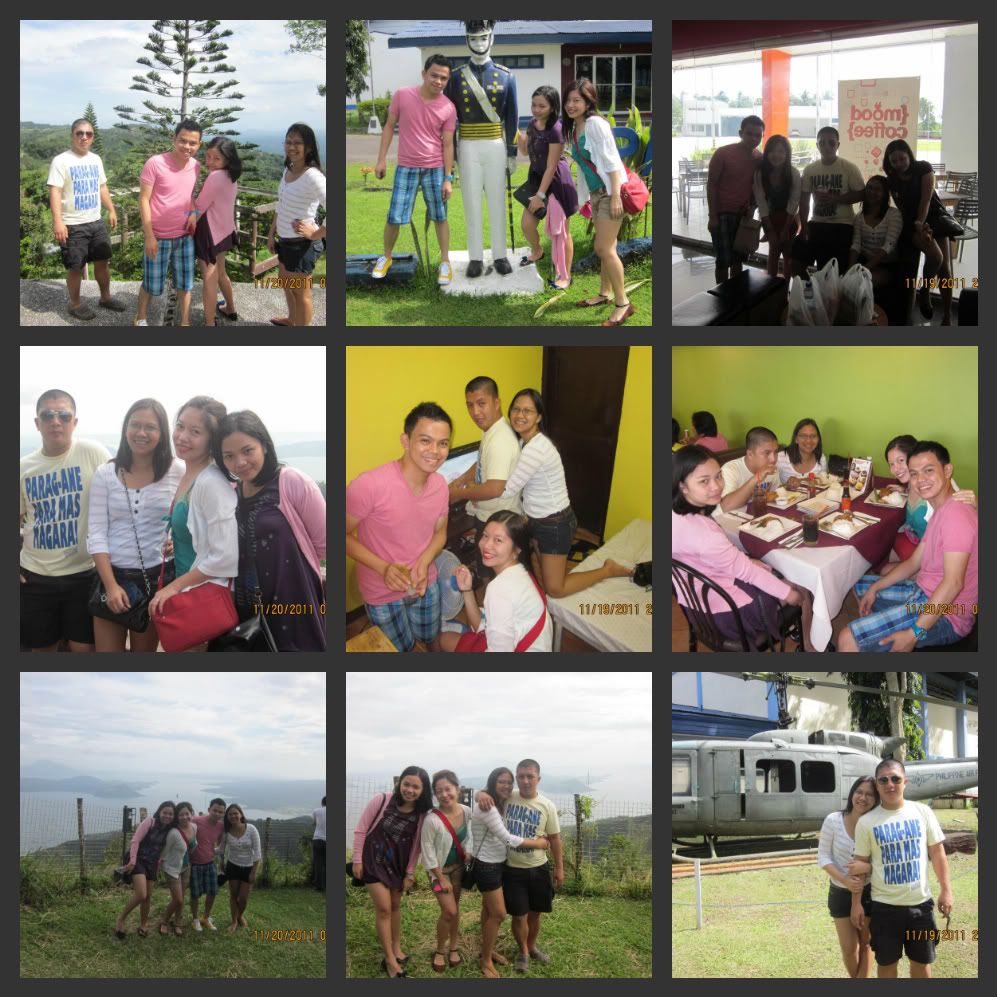 Tagaytay City– The destination for the day Sunday Nov.20. It's not really much just a view of Taal volcano and Taal Lake. But hey the place was really cool huh. The breeze of the wind was very soothing for the tired and exhausted soul. Also, we'd get to see Taal volcano- the smallest volcano in the world- that's still amazing!
Leslie's Restaurant– I actually did a research of this place because Leng told me that it is a nice place and the food is great. However, in the reviews that I've read, majority of it suggest that its not really that good. Foods were way too expensive for the mediocre customer service that you received. But still we went there, and after seeing the whole place jampacked with people and that we have to wait for other people to finish eating, we opted to find another place. Well, we landed at Maxx's. Okay, yeah I know we should try something that is not in Davao City but what the heck, we're more concerned with our empty stomach and boy it was a long drive, we really needed some place to rest.
After the sumptuous lunch we had, we decided to buy some pasalubongs at Colette's. By the way Colette's was really kulit. Imagine almost every after 500 meters you can find Collete's,it was all over the place that we made a game after it. The one who'd get to see Colette's first has the right to a one litik. Ronnie, Set and myself really enjoyed the game and even Leng that everytime we thought there was no more Collete's, one of us suddenly shout with all might COLLETE's that everyone of us would freak out! It was very enjoyable and helpful at the same time that Richard will not doze off to sleep while driving.
Enchanted Kingdom– Sta. Rosa Laguna
Would you believe that the thing I was really looking forward to was this, Enchanted Kingdom and its rides especially the Roller Coster Ride or what they call it Space Shuttle. But unfortunately just like in Ocean Park, EK was also jampacked with buses for students who were in field trip. The parking lot no longer look like one but that of a bus terminal as there are approximately 50 buses or more. So buses were all over the place as well as the students. So you will not be puzzled that we only managed to ride 2 rides! Yes 2 rides for php500 ! Well at least I got to ride Roller Coaster which was the only thing that I most look forward to.
Extreme Ride– The first ride that we rode except for Richard who thought he cannot do it. It was the newest addition of rides in EK and apart from paying Php500 for the rides all you can, you need to also pay Php80 for this ride. The experience as we would call it was makamatay! The drop did not take 2 seconds but it was so terrifying that the 2 seconds seemed to last an eternity!

Roller Coaster– I really awaited for that moment. However, as there are a lot of people during that time, there were also a lot of people lining up to ride the Space Shuttle. And we lined up for more than an hour. It was my first time experiencing something so extreme like that and I thought I'd be shouting my lungs out but I was able to stop myself from doing so. Nonetheless, it was still a terrifying and a very unforgettable experience.
Even if we badly wanted to try out all rides Richard was dead tired and he wanted to go home. You know the deal we can't just be selfish, after all we were riding with their car and with all the accommodations they provided us, we can never ask for more. A big thank to you Leng and Richard!