Since I got back from Qatar, I was always almost traveling between Digos and Davao. Oftentimes, I would stay with my sister or my friends. In a few instances, in a hotel.
During one of my visits to Davao, one billboard caught my attention. It was advertising a new hotel in town, C-tree Hotel. It showed a nice-enough looking rooms with very attractive rates which left a deep impression on me. So when I visited the city again and needed a place to stay, I decided to try the new hotel out.
Since then, C-tree has been my go-to hotel every time I needed to stay in Davao.
The Room
The rooms that I have stayed in were clean and had this stylish minimalist design. It had all the amenities that I really cared about. The bed was comfortable. I'm not a bed expert by any means so that I can only describe it as having the right amount of firmness. It was soft enough that you'd feel like you are weightless but also firm enough that you don't sink right into it and feel constrained. I tend to sleep on my side, and with some mattresses, this would make one side of my body, the underside, very uncomfortable or even painful. With their mattress, it was just right that I can sleep quite comfortably and wake up rejuvenated and without any discomfort.
I do think that their pillows are too plushy that when I lay my head in, it would sink all the way through that it feels like there is no pillow at all. There is no neck support and not enough head elevation. It seemed like all the masses of pillow under my head went to the side and it's like I am being drowned. However, this problem of drowning pillows can be compensated by stacking two together.
The lighting of the room is warm and cozy. There is cable television so that you still can watch your favorite shows or news programs, or favorite cartoon network shows.
According to a staff, C-tree hotel hasn't fully launched yet. Their restaurant is still in the works which can be quite a hassle when you are tired from your day and just want to get a quick meal before resting. They do serve breakfast and you can also have food delivered from various restaurants and food joints in the city.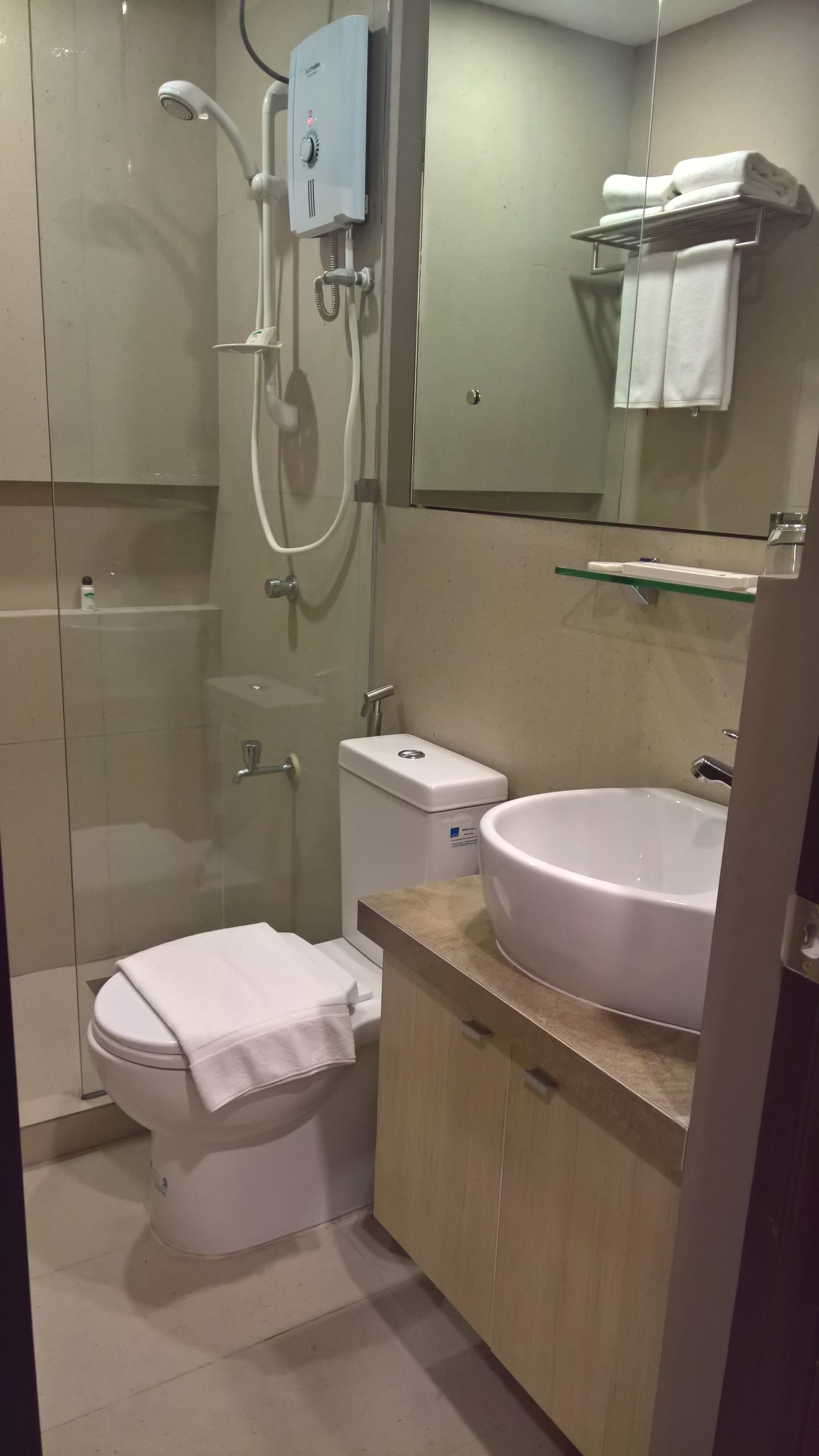 The Bathroom
Bathroom, for me, makes or breaks not only the room but the overall experience. And I am glad to say that I am happy with the bathroom. It is clean, which is really the number one thing for me. It has a sufficiently-sized washbasin so you don't feel constricted when brushing your teeth or washing your face. There is also this massive mirror. The hot water shower comes standard. It is stocked with more towels than you will ever need. However, the bathroom is a bit small. The area around the toilet is definitely a bit cramped depending on your stance of choice when taking a dump and I can imagine it being a little uncomfortable for some hefty fellows out there.
The bathroom also doesn't have one of those fancy automated toilets with those built-in sprinklers that wash your bums. What you do have is a spray hose and a supply of tissue. Now, this wasn't really a negative for me since I actually prefer the control and precision offered by the spray hose. This is really just to inform others who might prefer automated toilets.
Now, there are really not major negatives on the hotel, especially when you consider their rates. However, if I have to nitpick, it would have to be the slippers. They don't have it. That means if you are planning on staying there, you'll have to bring your own pair if you don't want to constantly wear and take off your shoes every time you get off the bed and plan to move about the room or the hotel. Don't get me wrong, they do a good job of keeping the floors clean but there is no replacement to slippers. Aside from keeping the soles of my feet clean, I also hate having to feel sand and other particles on the floor. I guess it's alright if you have planned your stay beforehand so that you can bring slippers with you. But for someone who's stay is unplanned, this can be quite inconvenient. I can understand that they are keeping the prices down so they just can't give away slippers for free. But I feel like they should be offering them, even at a price.
Trivia: On the four times that I've been there, I got the same room 3x already.  Yes, they are almost always fully booked. But they promised me that should I stay there next time, they would give me the room that I want, depending on the availability.
So, if you want to try the newest boutique hotel in town, you have to contact them for reservation.
P.S This is not a sponsored post. I just love my experience with the hotel that I ought to share it!